Set on a hillside on the island of Koh Phangan, the resort is 18 acres of tropical beauty. Santhiya feels traditional in style, with gorgeous wood work and intricate details which stay true to it's Thai roots.
---
Getting There
You'll have to take a boat from Koh Samui to get to Koh Phangan. It's a choppy 30 minute ride on a speed boat but once you get to Santhiya you'll forget about the ride there. However, if you do get sea sick it would be a good idea to take medication before hand as the ride can be very bumpy. There is a dock at the hotel but we had to go to a different dock because of high winds, we were then taken by car to the resort.
Upon Arrival
Guests are treated to a warm welcome on arrival at Santhiya, including a fresh glass of juice. As soon as we arrived we could feel all the stress of the 18 hour journey melt away, gorgeous views, friendly and calm hotel staff and the most beautiful setting you can imagine. Check in is easy and efficient, and you are then taken with your luggage by buggy to your accommodation.
Since the resort is set on a hill, there are some steep climbs. There are plenty of buggies to take you around but we did do quite a lot of uphill walking. This didn't bother us too much since we like to get exercise on vacation but if steep walking is a problem for you, rest assured it is easy to get a ride up the hill.
Our Room
We stayed in a Deluxe Room, which is one of their more basic rooms but you'd never know it. Our room was 43 square meters and felt very spacious, with a large bathroom including a jacuzzi bathtub. We had a huge king sized bed, a small seated area with TV, and a good sized balcony with views over lush greenery and out to sea.
The room was decorated with flower petals and swans made from towels, wishing us a happy honeymoon. We loved that our room had a traditional feel, while still being modern and comfortable.
The Restaurant
We didn't eat dinner at the resort restaurants, but the breakfast was second to none. We got up early most days and got a table outside, looking out across the water. We always had omelets from the egg station and ate lots of delicious fresh fruit and traditional Thai dishes. It's almost impossible not to keep eating because the food is so tasty, and juices are all fresh with such variety.
After such a filling breakfast we didn't eat much for lunch and instead opted for an early dinner every night at the beach next door.
The Pool and Beach
There are two pools in the resort, both large with ample beds. The pool by the beach is good for swimming but busy with guests, so get there early if you want to catch the best spots. The resort has its own beach, which we didn't use much because the sand is coarse and there is a much nicer beach next door. Just a few minutes walk on a path over some rocks, and you'll be on an amazing beach with soft white sand and a great selection of restaurants and massage parlours.
We went to this beach every day for swimming and drinking from fresh coconuts, relaxing and having massages. We also went there for dinner every night and ate at romantic beach restaurants with our feet in the sand, listening to the sound of the waves under the lanterns placed in the trees. The food was delicious and very cheap, we couldn't believe the quality of the food we got for the price! We never paid much more than $10 USD for both of us at dinner.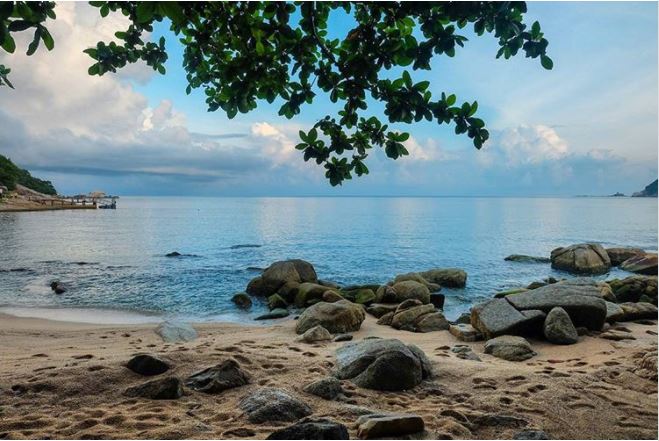 The Gym
One of our favorite things about Santhiya was the gym! We normally like to try and stay in shape on vacation but this gym was so amazing that we went every day. It's an outdoor gym but it is under shelter and has several machines, yoga mats, weights and a ping pong table. The fitness centre is above a lagoon and is surrounded by waterfalls and it really is a pleasure to work out in. There was only ever a few others in the gym so we basically had it to ourself and loved it!
Activities
There is a good activity schedule at Santhiya, including yoga, trekking, and snorkeling. We took a yoga class and only the two of us showed up, so we had our own personal yoga class which was perfect. We also went snorkeling which we loved, but remember to cover your back while in the water so you don't get burned like we were! The resort staff was great with helping to book excursions so you can always book trips at the front desk.
The Customer Service
It's fair to say that prior to staying at Santhiya, neither of us had ever experienced customer service at this level. The staff make your stay so perfect and are always happy to help with any query. They are friendly, warm and above all, extremely efficient. The communication between staff is incredible and they are always aware if you are checking out, checking in, ordered lunch, waiting for a drink, waiting for a boat or trip. We commented several times how smoothly everything runs and the staff was really the icing on the top of an amazing stay at Santhiya!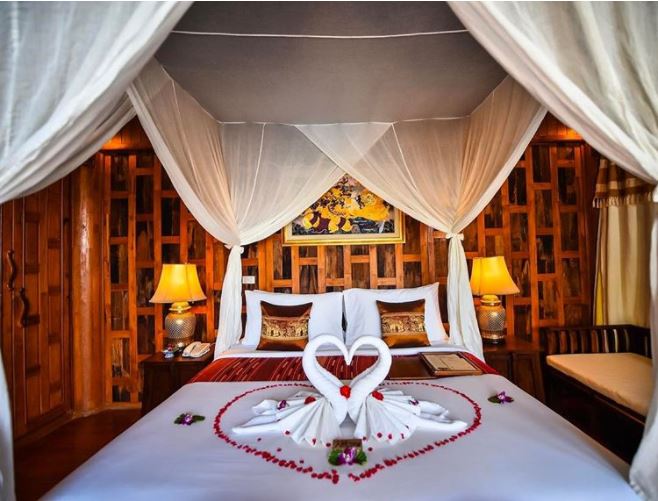 For more luxury travel ideas click here. For more information on Santhiya visit their website.